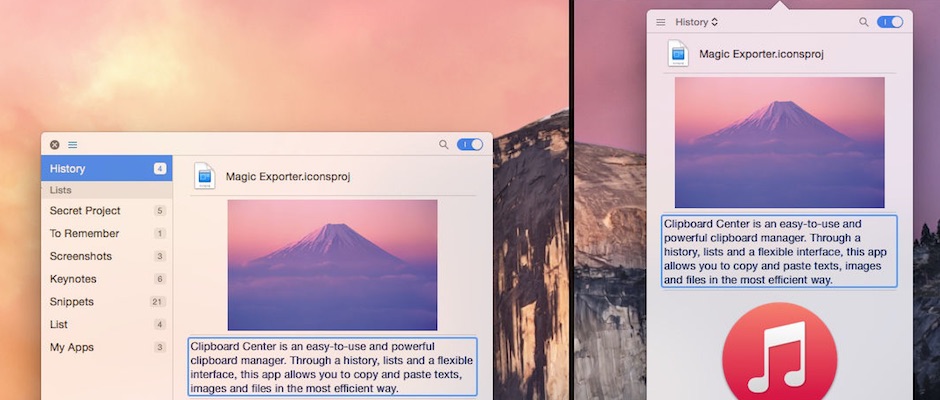 Clipboard Center is a easy-to-use and powerful clipboard manager.
---
---
Capture the Clipboard
At moment you enable clipboard capture, texts, images and files copied in your apps will be automatically added to the history.
Paste efficiently
Each entry, and even a selection of entries, can be pushed again in the current clipboard by a simple click.
Manage your clipboard with lists
Lists allows you to save and organize the captured items from the clipboard. Each entry will be unique (Clipboard Center control duplicated item and merge them). To find them more easily you can also add labels.
A window with multiple behaviors
The app's window can be attached by simply moving it in the upper right corner of the screen, allowing you to easily access it on a desktop or above a full screen app. When the window is detached, you can also make the window stay always visible and on top of other apps.
Preserve original data
An element of clipboard generally contains multiple representations of a copied item. In fact, most apps provides a standard representation (text or image) of their clipboard but also others specific to these apps. Clipboard Center ensures that data will not be lost during capture.
Preview
Each item lists are viewable in a preview window. The texts of several pages or large images are perfectly visible.
Search
Clipboard Center offers a quick search among lists and history.
Drag&drop
In addition to capture items from Clipboard, you can drag and drop images and texts from Clipboard Center on other apps. And vice versa, Clipboard Center can receive items from other apps.
Black list
Copy from apps of your choice can be ignored by Clipboard Center by adding them to the blacklist.
Customizable
There are three display modes for lists: simple lists, lists grouped by application, lists grouped by type,
You can configure the types of clipboard (texts, rich texts, images and files) that will be captured,
The number of items in the history can be limited for better readability,
Customizable shortcuts to toggle app's window and capture.
---
Clipboard Center Add-on
Add-on for Clipboard Center that allows to paste in other app. Download